Future Students
What is Women in Engineering?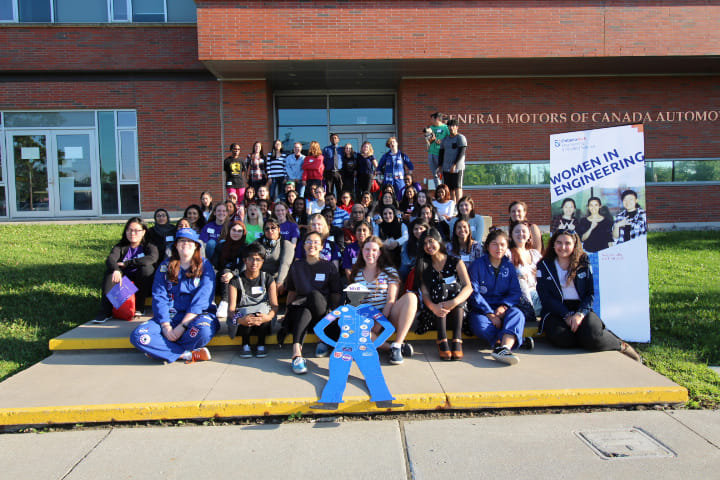 Previous events include:
Co-op/Internship info session
Interview Preparation
Soldering Workshop
Engineering Company Tours
Professional Networking
Alumni Dinner
Conferences
Why get involved?
You will also have access to many volunteer opportunities that can add experience to your resume, such as on-campus events, and outreach initiatives, where you can share your engineering knowledge with youth throughout the community. You are encouraged to get involved with our Peer Mentorship program where you will be matched with an upper-year female engineering student who will give advice and help guide you through university.
Events for Future Students
Discover Engineering

Discover Engineering

Presented by The Faculty of Engineering and Applied Science and Women in Engineering at Ontario Tech University.

Join us for a fun weekend to learn more about the first-year engineering experience! This weekend-long, in-person event is open to all female-identifying grade 12 students who have received an offer of admission from Ontario Tech University. This event will support the incoming class of female engineering students and connect them with like-minded female engineering undergraduate students. 

Participants will have the opportunity to engage in a number of activities including a tour of campus, discussion with one of their future professors, hands-on workshops in engineering skills, and spending time with undergraduate students in their program. To help them fully experience student life at Ontario Tech, participants will be given a room in residence to stay in on Saturday night. Meals will be provided. Students who are unable to attend in person can still participate in some of the activities, indicated below, by joining us on Google Meets.

Ontario Tech University, North Campus

Date: May 14th - 15th, 2022


Open To: All female grade 12 students who have received an offer of admission to an engineering program at Ontario Tech University. Eligible individuals will be contacted by email with a registration link. 

WiE Conference

WiE Conference

Presented by The Faculty of Engineering and Applied Science and Women in Engineering at Ontario Tech University.

Join fellow grade 11 and 12 students for an online conference to learn all about engineering! Spend the day learning from industry professionals and Ontario Tech Engineering students all from the comfort of your home. 

Google Meet Event

Date: November 14th, 10:00 am - 2:00 pm

Open To: Female-identifying grade 11 and 12 students