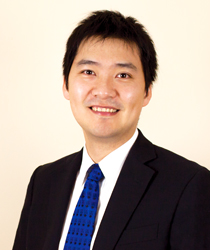 Haoxiang Lang

BSc, MASc, PhD
Associate Professor
Department of Automotive and Mechatronics Engineering
Faculty of Engineering and Applied Science
Contact information
2000 Simcoe Street North
Oshawa, Ontario L1G 0C5
Office: ENG 2023
905.721.8668 ext. 7439
905.721.3370 (fax)
---
Research topics
Mechatronics
Autonomous Robotics
Visual Servoing and Advanced Controls
Machine Learning
Education
PhD (Mechanical Engineering), University of British Columbia, 2013
MASc (Mechanical Engineering), University of British Columbia, 2008
BSc (Marine Engineering), Ningbo University, 2003
Publications and presentations
Selected publications and presentations

Wang, Y., Zhang, G., Lang, H., Zuo, B., and de Silva, C.W., "A Modified image-based visual servo-controller with hybrid camera configuration for robust robotic grasping," Journal of Robotics and Autonomous Systems (Elsevier), Vol. 62, No. 10, pp. 1398-1407, 2014
Lang, H., Khan, M. T., Tan, K. K., de Silva, C. W., "Developments in visual servoing for mobile manipulation," Unmanned Systems, Vol. 1, No. 1, pp. 143-162, 2013.
Wang, Y., Lang, H., Lin, H. and de Silva, C. W., "Vision-based grasping using mobile robots and nonlinear model predictive control," Control and Intelligent Systems, Vol. 40, No. 1, pp. 3-10, October 2012.
Wang, Y., Lang, H. and de Silva, C. W., "A hybrid visual servoing controller for robust manipulation using mobile robots," IEEE/ASME Transactions on Mechatronics, Vol. 15, No. 5, pp. 757-769, October 2010.
Lang, H. and de Siva, C. W., "Fault diagnosis of an industrial machine through sensor fusion," International Journal of Information Acquisition, Vol. 5, No. 2, pp. 93-110, June 2008.