Indigenous Media Gallery Program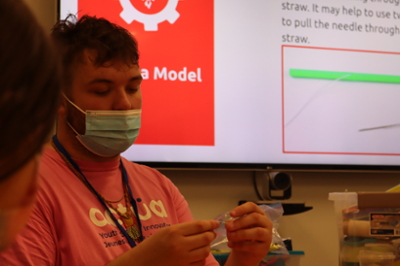 Our free in-person Indigenous Media Gallery Program for grades 7-10 is now open for registration! In collaboration with the Robert Mclaughlin Gallery, students will explore Powerful Glow, an exhibit inspired by various Indigenous artists. We aim to renew students' pride in their Indigenous identity and increase their confidence in the pursuit of STEM careers and education. Throughout the sessions, students will have the opportunity to understand how Indigenous STEM and art relate to one another through interactive activities!
Spots are limited to 25 participants per program. Because there are limited spots available, please only register if you intend to attend all sessions.

Session Details
Cost Per Participant: FREE
Location: Robert McLaughlin Gallery - 72 Queen St, Oshawa, ON
Program
Date
Time (EST)

Indigenous Media Gallery Program

Grade 7 - 10

Saturday, February 25, 2023

Saturday, March 4, 2023

Saturday, March 11, 2023

Saturday, March 18, 2023

Saturday, March 25, 2023

12:30 PM - 3:30 PM
We are pleased to offer the Indigenous Media Gallery Program at no cost to families with the generous support of Actua.